Here's An In-Depth Process to Build a Pool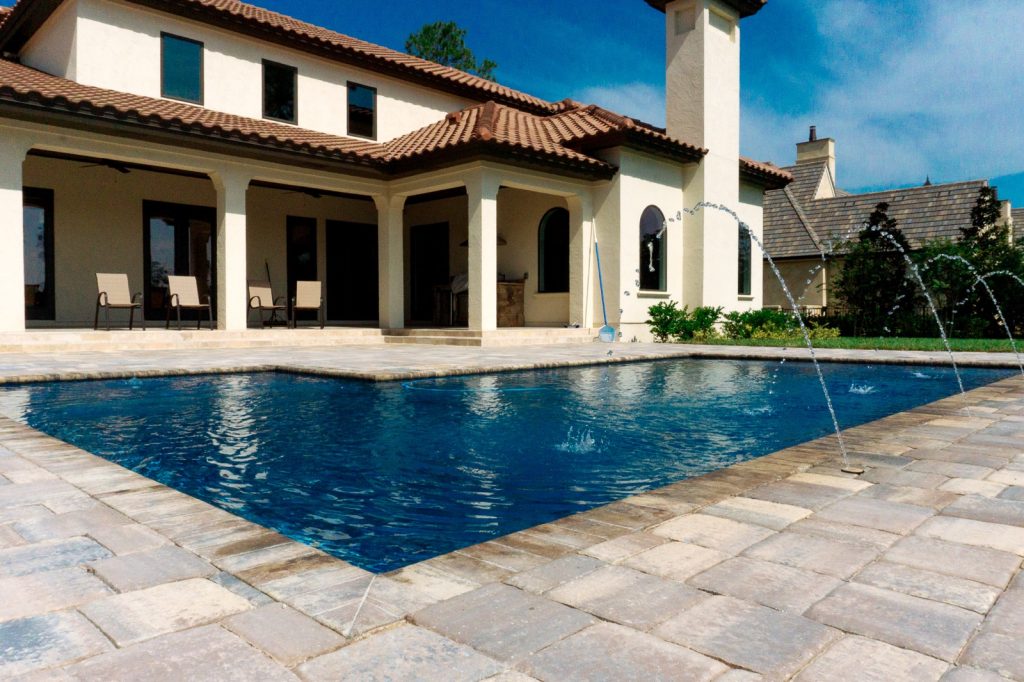 Installing a luxury pool in a backyard or at a commercial property is truly a work of art — custom pools require an intricate, hands-on process to create a final product your whole family will love. Because of the importance of the process, building professionals dedicate their whole lives to mastering the art of pool design and installation.
The team at Florida Luxury Pools receives questions all the time about the pool building process and procedures. From rendering a 3D design to filling the pool with water, we remain completely transparent to our clients. Read below for an in-depth description of the Florida Luxury Pools process.
Our Pool Building Process
Step 1: 3D Design and Project Proposal
The first phase of installing a pool at your Jacksonville home is an exploratory meeting with you and one of our design experts. We listen to your vision for your dream pool and then discuss the many options to fit your budget. Our pools are completely unique to each client, so we go above and beyond to bring your vision to life. In fact, we even invented a custom pool feature for a client last year!
Once your design expert collects all the info they need, the next step for our team is to take a detailed survey of the property. The survey includes lot and building dimensions, building setbacks, utility locations and access points to the construction site. In two-to-three days we'll have a detailed 3D rendering of your dream pool ready to present.
Step 2: The Legal Details
This is when we take care of the nitty-gritty requirements like building permits and approvals. The length of time dedicated to this step varies by county, so talk with our team directly for an estimated time for the permit process.
We work closely with trusted professionals around Jacksonville. Permits utility and gas are acquired from the associated experts. It's our job to make sure all building plans comply with state and local codes. We provide you and your family plenty of notice whenever an inspection is required.
Step 3: Start Construction
After the law is on our side and you approve the 3D design, the construction process begins with reviewal of the building stages. Your Florida Luxury Pools team member meets with you to explain the steps to come before the first shovel ever touches your yard. Next, the pool elevation and form boards are set to ensure the pool is in the perfect spot. This means the excavation process can start! We typically use small construction equipment, like front end loaders, throughout the process.
Step 4: Pool Shell and Pre-Plumbing
We reinforce every new pool shell with horizontal and vertical steel rebar. Rough plumbing, also called "steel out" immediately follows the steel installation. This is when we install the skimmers, main drains, return line "stubs" and other pre-plumbing parts.
Step 5: Flooring and Walls
Your luxury pool's floor is concrete and the walls are made of a combination of sand and cement. This mixture, called gunite, has a minimum thickness of six inches.
After your Florida Luxury Pools professionals complete the gunite phase, it's time to begin the fun part! Our clients love when the tile design phase kicks into gear. Whatever shape, size or color you choose, we carefully lay the tile to create a masterpiece in your yard.
Step 6: Plumbing Requirements
Just like the custom design you select, the plumbing set-up is completely unique to the pool's filtration and circulation requirements. We run thorough tests to make sure all of your pool equipment will maintain energy conservation and water clarity.
Next, a professional plumber comes to the pool site to install water feature pumps and all other filtration equipment.
Step 7: Deck Design and Layout
The deck design is created and rendered the same time as the pool. We do the 3D renderings at the same time so all aspects of the project are cohesive and complementary. Your pool deck will be a minimum of four inches thick using whatever material you select, then reinforced with steel rebar.
Step 8: Clean Up and Completion
Yay! Your fully-custom pool is almost finished. After the deck is poured, we remove all the equipment, materials and waste from your yard to prepare for the last couple of steps.
When the interior pool coating of choice is finished, it's time to fill the pool with water! This is the very last step of the construction stage, and one step closer to your family jumping in.
Step 9: Final Requirements
A Florida Luxury Pools service technician will come to your home for a final check of installation and functionality. We're so excited for you and your family! After we walk you through some necessary maintenance information, we leave your family with a fun parting gift.
Building custom pools for families around Jacksonville and the beaches is the biggest passion of the Florida Luxury Pools team. We truly enjoy every step of the installation process, but our favorite part is seeing how excited you are with the final product. If you have any additional questions about the process before moving forward, chat with one of our team members today!