Everything You Need to Know About Firefall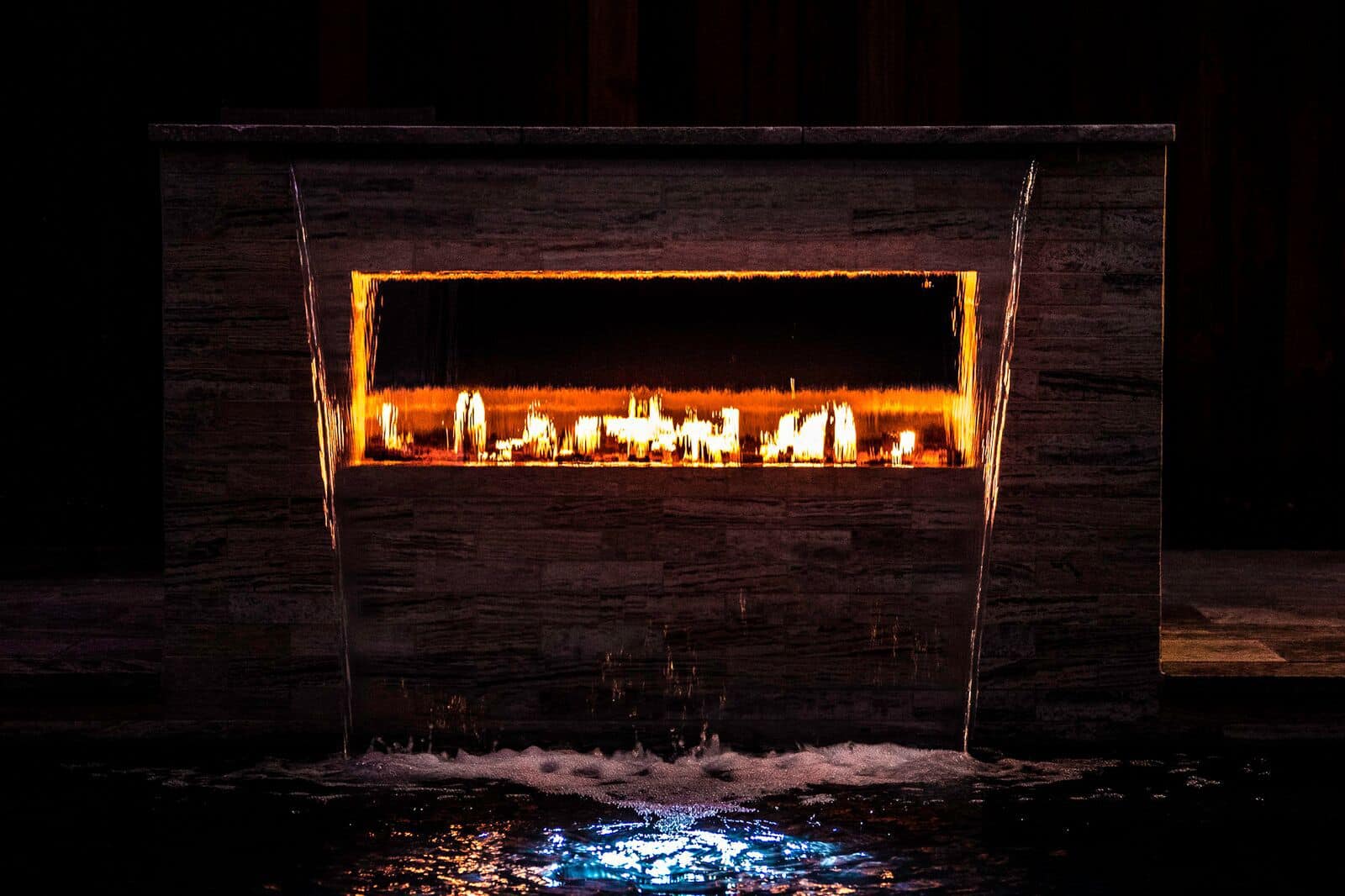 We pride ourselves on making our clients' dreams into reality. Time and time again our clients come to us with new and interesting visions for their ideal pool. Our new Firefall technology is a perfect example of these new and interesting visions. We couldn't wait to start working on this one. The idea stems from two centerpieces that are found in and around any luxurious pool: a fireplace and a waterfall. You've seen a nice fire pit on a patio and you've seen a majestic waterfall in a pool, but both of these features combined? This was uncharted territory. With our client's imagination and FLP's commitment to its customers, we were determined to get it done and even more determined to have a blast figuring it out along the way. Firefall is innovative and exciting. Here is everything you need to know about it:
The Finished Product
The finished product is nothing short of mesmerizing. A fireplace is built into the edge of the pool, and on the other side, there is seating around the fireplace to give it a community fire pit feel. The fireplace is built into a concrete structure with a waterfall that extends out and flows into the pool, creating a beautiful visual combination of fire and water. The seamless integration of the fire pit seating and stunning waterfall feature looks incredibly sharp. This build even came equipped with mood lighting in the waterfall! The clients were more than satisfied, and we were thrilled with the result. We were so thrilled, in fact, that we decided to take the name and run with it. If you want a Firefall in your pool, we've got you covered.
Integration
Firefall works because it looks good and it's functional. Firefall brings two distinct parts of your backyard, your pool and your firepit space into one. When you're entertaining, having these areas separated can create an awkward divide between the people at your party. With Firefall, you can enjoy a dip in the pool and still be able to socialize with the people who are enjoying the firepit. Combining these spaces can also open up your yard. A lot of Firefall's beauty is in its simplicity and efficiency. What else do you want in your dream backyard? Now that you've combined two spaces into one, you have a lot more space for new projects!
Seasonal Appeal
Chances are, even though we're in Florida, you probably barely use your pool around winter time. So many beautiful backyards and pool areas are seldom used because of the weather. With Firefall, you'll be able to make use of your pool space all year long. In the cold months, enjoy the fire pit part of the pool with your guests. They'll be warm and cozy, and they'll still have a front and center view of your breathtaking pool. It's not every day you can say you were sipping hot cocoa by a fire AND a waterfall. If you're entertaining, Firefall is a gorgeous centerpiece, regardless of the weather or the occasion.
We loved the Firefall project so much we wanted it to be available to everyone. Call us now and get a Firefall, an exclusive creation by Florida Luxury Pools put in your pool today! At Florida Luxury Pools we want to make sure you're getting what you want in the best possible way. If you've got something radical planned, don't fret. Come to us and we'll help you along every step of the way, even if it's uncharted territory. Too many pool designs in Jacksonville are bland and unimaginative. Our professionals have a passion for this stuff and we love a good challenge, so bring us your craziest idea and we'll work through it to make it a reality. When our client came to us with the Firefall idea, we greeted them with open arms and created something totally new. If you want a Firefall installed in your pool or if you have another custom design in mind, talk to us! We would love to hear what you have to say.