Why You Can't Hire Just Any Pool Company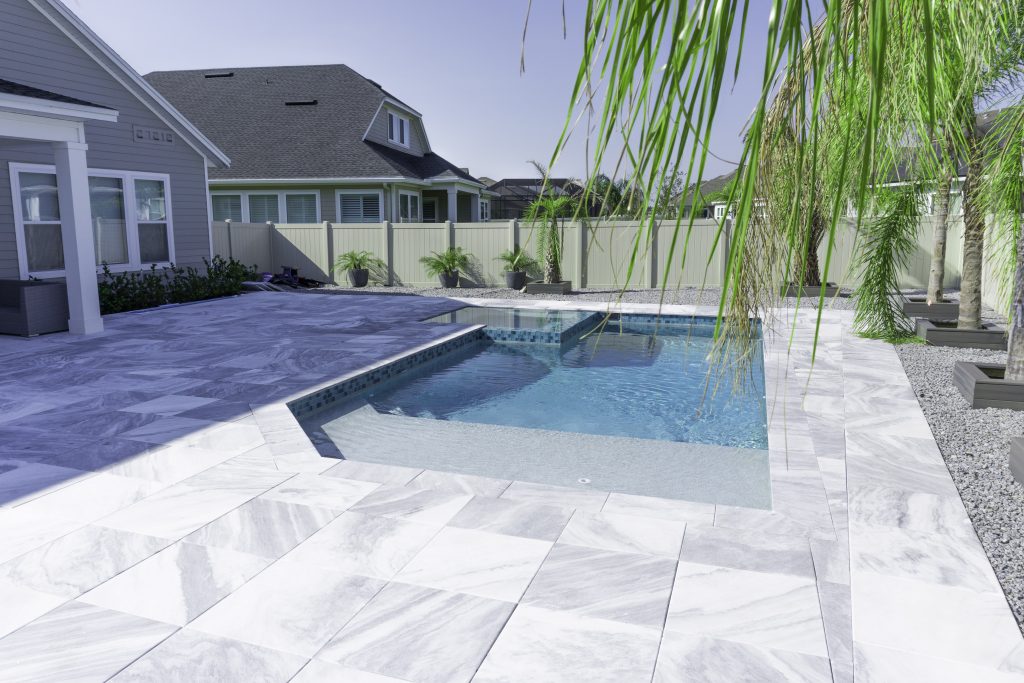 If the incoming summer heat is starting to put you in the mood for a new pool, you're not alone! Homeowners all around Jacksonville have begun to search for a pool company to create the custom pool of their family's dreams.
You have so many options when it comes to pool size, design and materials. You also have so many options for which pool builder to hire. Without the right pool company and expertise in your corner, your journey to the perfect swimming pool can be frustrating and expensive. Our mission at Florida Luxury Pools is to create pools for our Jacksonville neighbors that stay in budget and exceed expectations.
5 Things to Look for When Hiring a Pool Builder
The toughest part of the pool building process is putting your trust in a local pool company. We're here to help you navigate the first and most important step of this exciting home renovation.
1. Search for a Company With a Proven Track Record
One of the best things you can do in your search for a builder is to trust your family and friends. If someone in your neighborhood recently built a pool you absolutely love, ask them about their experience with the pool company. If they give you a rave review, there's no harm in giving the builder a call.
On the other hand, newer pool companies deserve a shot at the job, too. If a builder sparks your interest online but there aren't many reviews, reach out to the company for a couple of case studies and testimonials.
Florida Luxury Pools proudly builds custom pools for Jacksonville residents of all budgets and design preferences. We take customer feedback very seriously and are extremely proud of our five-star Google rating.
"My experience was great. Everyone showed up on time and my pool and cool deck turned out better than I could have imagined. [They were] a big help with suggestions I would not have thought of. He made sure we stayed on budget. I would highly recommend them."
– Pam S., Florida Luxury Pools Google Review
2. Visit the Company's Office Space or Showroom
You can find out a lot about a pool company based on their workspace. Get a glimpse of how their employees interact with each other and what type of work ethic the company reflects. Also, a visit to their office is a great time to meet the employees that will get the job done.
There are a couple of red flags during a showroom visit that might deter you from hiring the builder. If you overhear employees speaking badly about other customers, that might not be the pool company for you. Showing up late to your meeting is also a negative indicator of how quickly they complete their work.
3. Read All of the Information a Builder Provides You
Pool companies will give you packets of awesome information to ensure a smooth installation process. Read it! We promise it's not a ton of boring jargon. We recommend all of our clients read every bit of info so they can ask us all the questions they need to be answered.
Educated buyers are confident buyers. Whether you've already hired a company or you're reading information packets provided by the final candidates, don't do yourself a disservice by ignoring the materials.
The Florida Luxury Pools building pros answer every single question our clients ask. We believe in a completely transparent design and build process.
4. Is the Pool Company Completely Legal and Fully Insured?
This is a great way to weed out any imposters or inexperienced builders. It's completely valid to want to see a company's license and insurance records before hiring them to complete the job.
A couple of important documents to ask about include Worker's Comp Insurance, Liability Insurance and a State Contractor's License. Any professional pool builder can easily show you a record of these without hesitation. Another great way to check out a company's validity is by reviewing its profile with the Better Business Bureau.
5. Trust Your Gut to Point You in the Right Direction
The pool company you hire will have employees in and around your home for an extended period of time. You don't need to become friends with the employees, but you certainly should like them! If you ever begin to feel a pool builder is shady, dishonest or over their head — run.
You deserve to fully trust the company that brings your custom swimming pool vision to life. When you partner with Florida Luxury Pools, providing you with peace of mind is one of our top priorities.
Partner With the Pool Company that Proves its Value
Every homeowner has different things they look for in the people and companies with which they work. From a list of testimonials from your neighbors around Jacksonville to the right paperwork that proves a company's validity, you should do everything you can to make sure this pool company is the right one for the job.
Florida Luxury Pools is a locally-owned and operated company. We hold our team members and our material suppliers to the highest standard, which ensures a top-quality custom pool for you and your family. Do you want a pool before the humidity hits our city? We don't blame you! Chat with one of our team members today to get started on your custom pool.