New Year, New Pool Finishes & Designs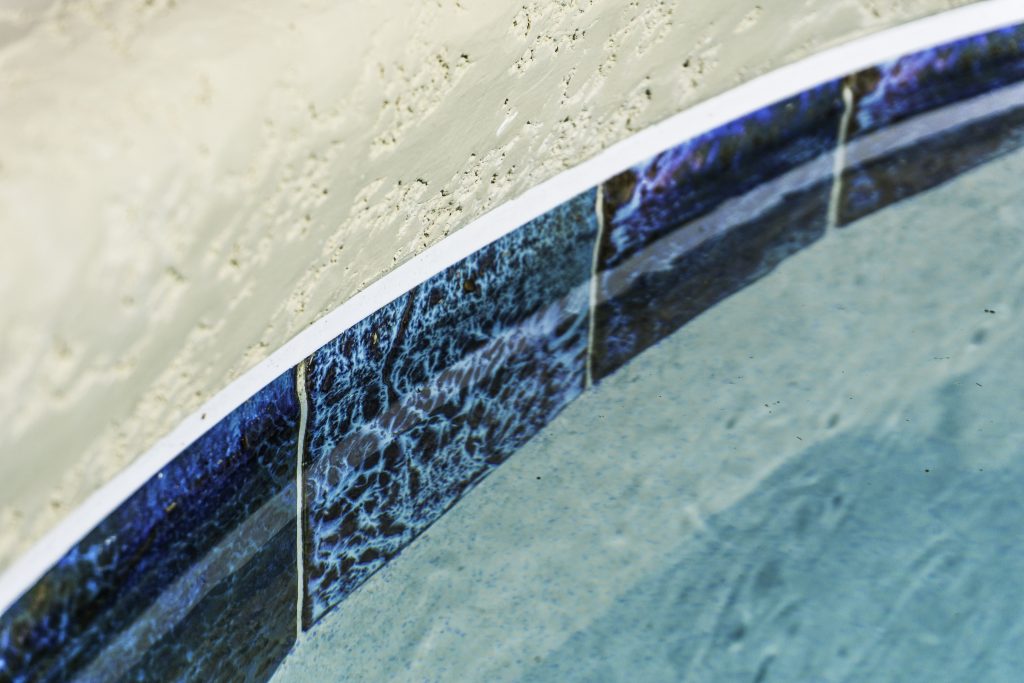 Homeowners have countless more design options when building a pool compared to previous years. Luxury pool builders offer a large variety of pool finishes to bring your design to life. From standard plaster to modern options like river rocks and glass beads, you have no shortage of high-end design choices when building your custom pool.
The customization you choose should be a perfect match to your home's aesthetic and your family's personality. This is a time to get creative! During your initial consultation and design meetings, we'll chat with you about the many options that'll fit your budget. Take a look at the top design options used by our team of luxury pool builders:
Popular Finishes to Fit Your Luxury Pool Design
Plaster Finish
Plaster is an inexpensive option for a simple, modern look recommended by luxury pool builders across Jacksonville and the US. The mixture of sand, cement or marble aggregate plus water results in a smooth pool surface. While plaster has certainly been one of the most common options over the years, it comes with a couple downsides we always discuss with buyers. Like any material, it all comes down to how well you care for it over the years.
Plaster can be rough to the touch and occasionally snag bathing suits. Plaster pools require more frequent maintenance than other finishes because of algae growth. If you opt for this pool finish, expect to update your swimming pool every five-to-10 years if not properly maintained. The good news is that the pros certainly outweigh the cons! Not only is plaster one of the most affordable options, but the color is completely customizable. While the surface needs to be properly maintained, expect this surface to provide years of beauty and durability.
Tile Finish
We love seeing how much fun homeowners have when designing a tile pool with us! Porcelain, stone and glass are the most common tile options for Jacksonville homeowners. If you want a fancier look, porcelain tile can be hand-painted, glazed or textured. Luxury pool builders are big fans of using porcelain tile around the waterline for a fully custom look. In addition to the great look of tile, it's also the longest-lasting finish for a concrete pool. Unlike a plaster finish, tile is one of the more expensive options.
Want a natural aesthetic for your backyard? Sandstone, limestone and granite are great design choices for a sanctuary-like feel. Work with our expert design professionals to curate a look using the many different color and texture options from which you have to choose.
Aggregate Finish (Pebbles, Glass Beads, etc.)
Aggregate finishes are along the same lines as plaster, except an upgraded mixture of pebbles and cement instead of sand. Homeowner favorites include glass beads, quartz and pebbles. Whatever aggregate material you choose, the surface texture can be exposed or polished. Exposed aggregate will give your pool a bumpy texture that can feel a bit like a foot massage. On the other hand, polished aggregate gives your pool a flat, smooth texture.
Luxury pool builders love both of these options for homeowners, no matter the shape or style of the pool. One of the main perks of aggregate is how long it'll last. Expect quartz to last seven-to-12 years and pebbles 10-to-20 years.
The only main downside to an aggregate finish for your custom pool comes down to personal preference. If you opt for exposed aggregate, the rough texture may feel uncomfortable to some.
How We Stand Out From Other Luxury Pool Builders
The finish you choose comes down to the design scheme, budget and desired aesthetic of your custom pool. The Florida Luxury Pools design and installation professionals specialize in creating custom pools for homeowners looking for luxury and practicality. We'll work with you and your family to make design decisions that perfectly complement your home.
"The size, depth, features [they] helped us make a decision on were perfect. The end result was way better than we ever dreamed. Everything [they] told us they were going to do, and the timeline laid out, was exactly how the project went…office staff and field crews are the best in the industry." – Darrell P., Google Review
We will work to bring your custom swimming pool to life until you're completely satisfied. From digging the hole to filling your new pool with fresh water, we use advanced technology and expert insight to create a custom design unlike any other. Talk to the Florida Luxury Pools team today about your pool design options.