Ledge Options for Your Pool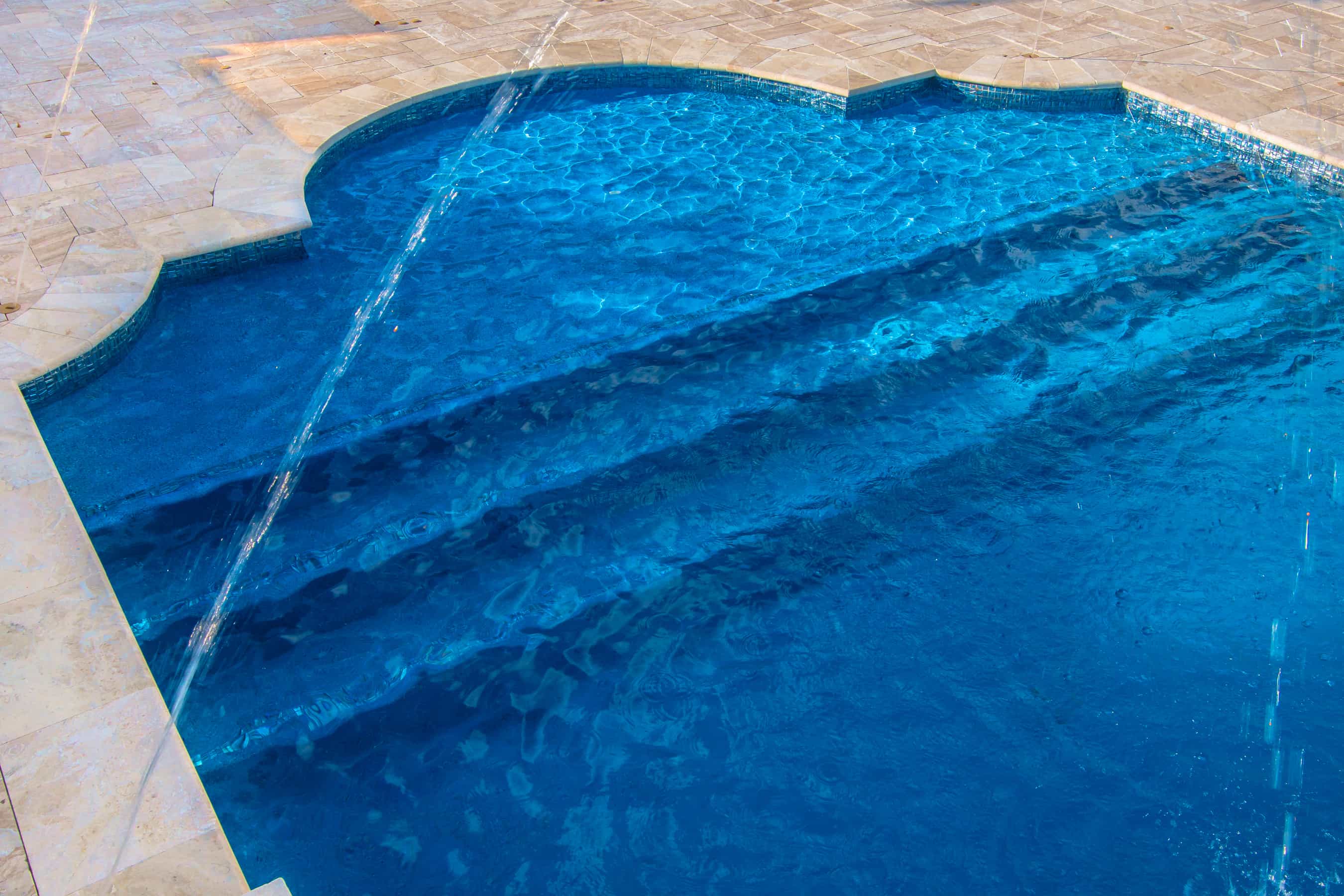 Imagine yourself sunbathing while sitting in a luxurious pool. Sounds nice, right? Well now imagine it in your own backyard. The features of a spa pool in your own backyard, it doesn't get much better. This feature is commonly referred to as a ledge. Ledges come in many different shapes and sizes and can be customized to fit pretty much any pool scheme. You've probably seen one before and in fact, more homeowners are installing ledges in their pool than ever. Customizing your pool with luxuries such as these have never been easier, so if you're considering starting this project look no further. We'll give you the low down so you can decide which style best fits your needs.
What Do You Do with a Ledge Anyway?
Ledges can be used in many different ways. Really what a ledge does is add versatility to your backyard pool experience so there is a little bit of everything for anybody. Whether you're sitting back on a semi-submerged lounge chair to enjoy the sun, or your little ones are learning how to swim there's something to do for all ages. A ledge is just a broad term for a shallow level in your pool so there are so many ways to incorporate one into your pool. That's why ledges are the most popular pool modification!
Closed Shelf
This shelf is going to be fully closed off from the rest of your pool. Basically a shallow kiddie pool with walls surrounding it blocking the ledge off from the rest of the pool. This type of ledge gives pools a layered look that can add value to virtually any type of pool. With a closed shelf, you have a lot of room for creativity. Blend the design of your pool with the shelf. For example, features like rocks, certain tiling, and even water features are all things that are possible with a closed shelf. The biggest plus side to a closed shelf is the fact that its closed with a wall from the rest of the pool. Ledges usually range from about 8 to 12 inches deep which is perfect for young children and even dogs to enjoy. A perfect place for teaching swimming lessons!
Open Shelf
Looking for a new place to lounge at your pool but want a more mature feel? An open shelf is a thing for you! While an open shelf might not be the greatest way to go if you have young children, the biggest benefit of an open shelf is the ability to switch between lounging on the ledge and swimming in the pool as you please. Because you don't have a separating wall, this option is cheaper as well. Simplistic and angular pools are complemented nicely by open shelf ledges. If you really want to go above and beyond check out LED lighting options for your ledge.
Beach Entry
For those that swear by the beach lifestyle and can't get enough of it, boy do we have something for you… Beach entry ledges. Sound crazy? Believe it or not, these are becoming more and more popular and are a reasonable renovation to your swimming pool. Beach entry ledges can range from a slanted ledge that leads to a drop-off, to a gradual slant as if your swimming pool is a real beach. Set up an umbrella and a pair of lounge chairs and we can pretty much guarantee you'll never want to leave your pool again. Beach entry ledges work best large pools as there has to be enough room to have the gradual slant. Beach entries are the most unique ledge and usually differ in style greatly from house to house.
So, Which One is Best for You?
Now that you know what your options are which one are you going to go for? At the end of the day, you're going to want what you and your family are going to get the most enjoyment out of. You and your partner yoga fanatics? Try out a simply elegant open shelf. Do you have 4 kids and 2 dogs all with seemingly unlimited energy? Try out a closed shelf pool with maybe a couple jets and a fountain, we promise that'll be a hit. Atlantic Beach Bums? Check out a beach entry, all the relaxation with none of the sand! Even if you haven't quite figured out what style fits you the best give us a call! We'll help you at every step of the way and build the pool of your dreams!