Lana T. Case Study
Problem
It's difficult to picture a pool in worse shape than this one before Florida Luxury Pools stepped in. Lana's pool resembled a bright green Florida swamp, which we all know isn't exactly desirable. Not only was the water incredibly dirty, but there were multiple leaks and the tiling was outdated. Clearly the pool was going to need to be drained, and the client was very concerned the pool would pop during the draining process. Our team did a thorough assessment of the situation and presented a solution to the client. Unfortunately, there was a heavy language barrier between the client and our team.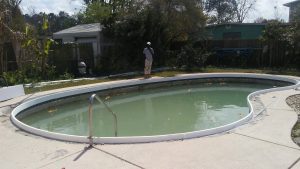 ---
Process
Our first step toward creating and implementing a solution for Lana's pool was thorough communication and working through the language barrier to make sure all details were correctly interpreted. Once we got a full scope of the work, we created a quote, drained the pool and started the project. Thanks to our skilled team members, state-of-the-art equipment and the proper insurance, Florida Luxury Pools has never had an issue with popping as a result of draining, one of Lana's biggest concerns. Following the successful completion of draining the pool, our team worked with the client to choose colors and select new tile. To accommodate the desired tile, we cut the concrete deck back by 12-inches all the way around the entire perimeter of the pool. We completed the job by installing new concrete then new tile.
---
Result
Our client gave us very specific time constraints, so we made it our priority to deliver a pool that exceeded her expectations and fit within the time limits. Thanks to the translator and the talented Florida Luxury Pools team, we were able to complete this major project in less than two and a half weeks. We are fully confident that Lana and her family will enjoy this beautiful pool for years to come.