Free Ledge Lounger When You Install a Sun Shelf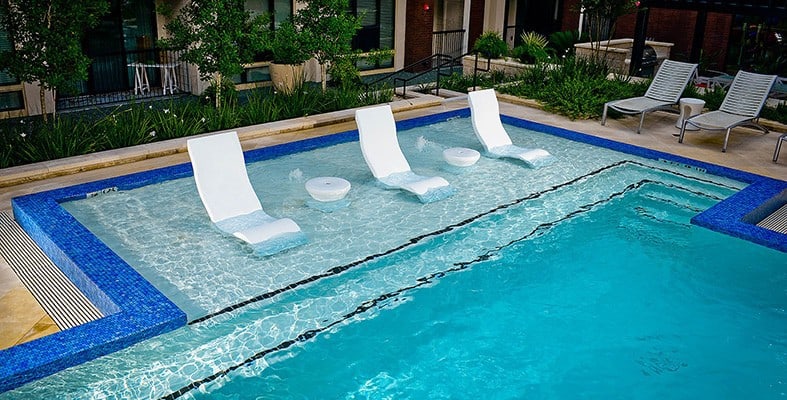 Get a FREE ledge lounger when you install a sun shelf with your pool design! Florida Luxury Pools is introducing this limited time offer so call to take advantage while you can. If you're unsure a sun shelf or ledge lounger is right for you, our team of pool experts is here to assure you'll be lounging in luxury in no time.
Sun Shelf
Sun shelves, commonly referred to as  tanning shelves or tanning ledges, are a fabulous addition to your inground pool. This is a platform varying in sizes and depths that sits just below the water surface. The depth of water on the shelf can vary from less than an inch to up to a foot, depending on your preference. The space can be used as a kiddie area or a place to tan. Sun shelves can also be large enough to place lounges, tables, chairs, etc. You can add a little spice to your shelf with a bubbler or jets.
Ledge Lounger
The ledge lounger is the perfect companion for your sun shelf. It's an in-water chair designed to sit on the shelf for tanning, reading or just relaxing around the pool. There's no feeling like sitting on a perfectly contoured chair with a touch of cool water and the sun hitting your skin. With a ledge lounger, you'll get a better poolside experience and relax in style.
The two go hand in hand – you just can't have a sun shelf without a ledge lounger. This is the easiest way to create a personal getaway in your yard and create an incredible pool experience for you and your loved ones. Call Florida Luxury Pools today to get started on pool design! You'll be relaxing in paradise before you know it.