4 Reasons to Start Planning Your Inground Pool Now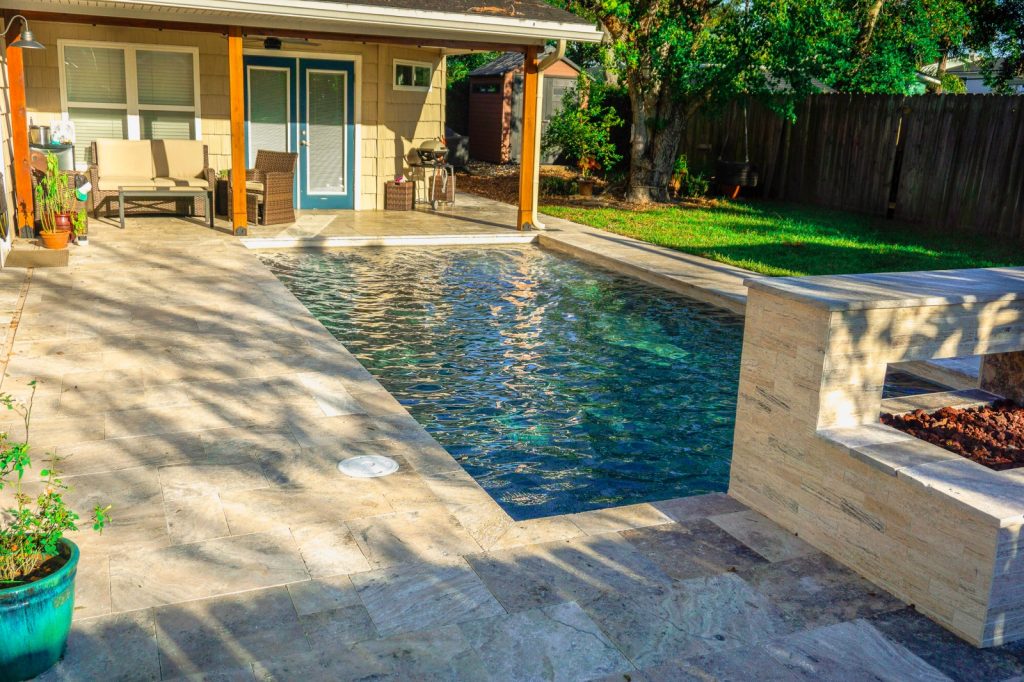 Homeowners from Ortega to St. Augustine are starting to get the itch for an inground pool right about now. While the air is still a bit crisp and the kids are fantasizing about cannonballs and chicken fights instead of school lunches and tests, it's common for parents to start talking to different pool companies around Jacksonville. You might think you're ahead of the curve by starting your research now, but building a pool in the winter is more common than you think!
The Florida Luxury Pools team works with homeowners and commercial properties all around Jacksonville to build the highest-quality pool at the absolute best price. We've earned a reputation around the community and five-star Google rating for honest team members, beautiful pools and an efficient installation process.
"My experience was great.  Everyone showed up on time and my pool and cool deck turned out better than I could have imagined…made sure we stayed on budget. I would highly recommend them." – Pam S, Google Review
While winter may be a popular time to install a pool, spring and summer are even busier! Here are four reasons to start planning your inground pool now:
Have a Refreshing Pool Installed Before the Summer Heat Hits
The worst thing about putting a pool installation off until late spring or summer is that it won't be ready when you'd like it to be! Jacksonville, Fl summers begin incredibly early, and pool companies hate breaking the news to homeowners that their pool likely won't be finished until mid-summer. When you wait until April or May to install a new inground pool, you won't be swimming for months.
With that in mind, beginning the building process before March allows the pool installers ample time to build your pool before swimming weather even arrives.
Faster Pool Installation Process with Fewer Delays
No matter the size of your project, we work diligently to stay on schedule and complete your pool on or before the date specified. In fact, we once built and finished a beautiful pool in less than two weeks!
The pool building process is likely more extensive than you think. From the initial design meetings to the final inspections (and every single tedious step in between), installation deadlines can sometimes be difficult to meet. Depending on the county in which you live and any roadblocks with your HOA or plumbing, the build time could extend.
The good news is, obstacles encountered during the winter can be handled far faster than during the summer. Governments, HOAs and subcontractors won't be as backed up with a pile of requests during the slow months.
Shutting Down Your Backyard When it's Not in Use is Less of a Burden
Imagine the headache of telling your kids they can't play in the yard for a couple weeks. Now, imagine their frustration if they can't play in the yard while school is out for the summer…no thank you! Installing a pool at your home means around the clock construction for the duration of the build. There will be a big hole in your yard, construction equipment and pool building professionals taking over the area for a few weeks. Certainly not the spot for little kids to play or dogs to roam.
Take advantage of your kids' preference to stay inside during the chilly Jacksonville winter. While they play video games and hide and seek in the house, we'll be busy installing the pool of your family's dreams!
Take Advantage of Competitive Pricing Offered by Many Pool Companies
While this isn't as prevalent in the South because of the year-round warm weather, there's still a clear financial advantage to getting quotes from pool companies for a winter installation. Because many pool companies around Jacksonville are slower during the off-season, they may offer special pricing to incentive homeowners to buy.
Florida Luxury Pools promises to offer great, competitive pricing year-round. Another awesome perk is that we now offer in-house financing! Speak with one of our team members about any possible winter installation specials. When you work with our team, you'll experience the difference that so many of your neighbors around Jacksonville are raving about.
We hire only the best and brightest at Florida Luxury Pools because we're dedicated to standing out amongst the other pool companies around Jacksonville, Fl. We don't take our job lightly, because we know how big an investment and commitment installing a pool can be. This promise means we use only top-quality materials for all of our clients, ensuring you have a beautiful, functional pool for many years to come.