Introducing Firefall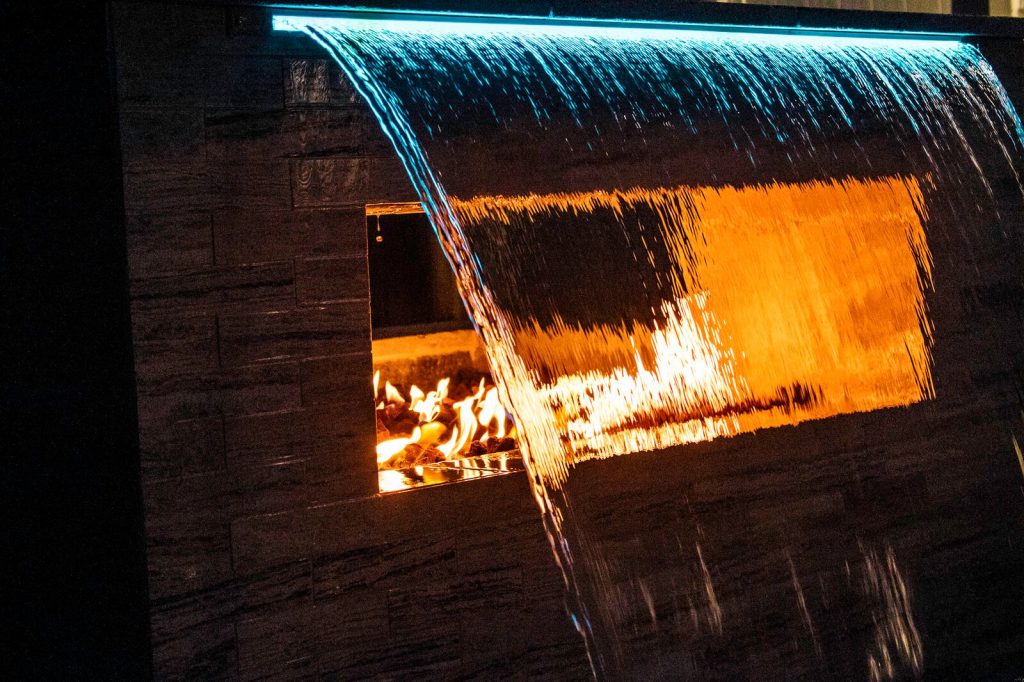 What's a Firefall? Well, it originated as a crazy idea from our client's imagination which was later turned into a reality with the help of our pool design experts at Florida Luxury Pools.
Firefall
Firefall is a combination of a fire pit and waterfall. The fire pit, which looks more like a fireplace, sits on the edge of the pool with a built-in seating arrangement. The concrete structure around the pit has a waterfall built in that pours into the pool. It's pure genius. One side is a fire pit area and the other side creates a gorgeous centerpiece for your pool. It's two fabulous pool features combined into one.
Above & Beyond Customer Service
This is a perfect example of what we mean when we say we'll do anything to create your dream designs! We're a company with a strong reputation for commitment to our customers, innovations and design expertise. You deserve a pool building company that's willing to go above and beyond to keep you happy and exceeds your expectations. We're open to working with you through every step. If you have new ideas during the build, let us know, we'll work with you to make them happen just like we did for Firefall. At Florida Luxury Pools, our team keeps you involved during the design and build process to ensure your pool turns out exactly as you've dreamed.
If you're looking for residential or commercial pool installation in Jacksonville, Florida Luxury Pools is your best bet. We're committed to exceptional pool designs, customer satisfaction and most importantly, a quality experience. We're ready to work with you to figure out the best pool design and payment plan to ensure you're getting exactly what you want. A pool is a big decision that deserves a builder's full attention and dedication. We'll do whatever we can to make the process as smooth as possible while ensuring a quality experience and final product. When you're ready to make this dream of yours a reality, let's talk. We have no doubt we're the right builder for you.