Concrete Pools vs. Fiberglass Pools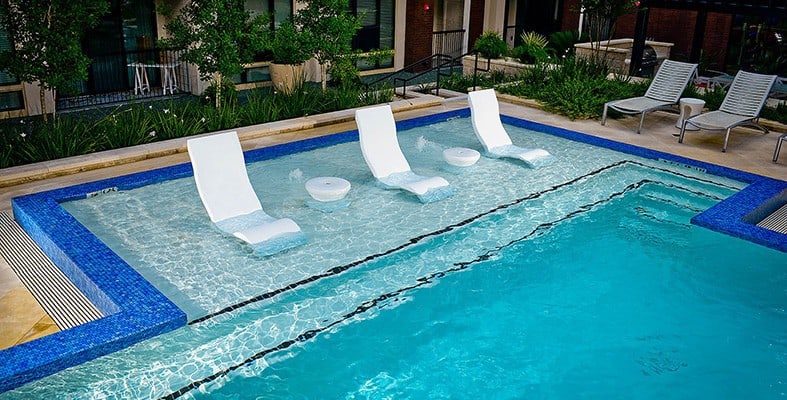 It's crucial to have a clear grasp of your pool design and material options before hiring one of the luxury swimming pool builders in Jacksonville. Whether you go with concrete or fiberglass, keep your mind focused on the fact that you'll soon have a relaxing pool in your backyard!
Our team at Florida Luxury Pools wants you to be aware of all of your options before making the big decision. We've built a reputation in the Jacksonville community for honest pricing, top-notch design and efficient installation. One of the ways we keep our building process honest is by being transparent with your design options.
Your Guide to Concrete Pools Vs. Fiberglass Pools
From the initial cost to the durability, we'll help you examine the pros and cons of both pool materials. The main areas of comparison between concrete pools and fiberglass pools are:
Customization Options and Appearance
Cost (initial and lifetime)
Durability
Maintenance Requirements
Chemicals and Energy Requirements
1. Customization Options and Appearance: Concrete Pool vs. Fiberglass Pool
One of the main areas of strength for concrete pools is the quality and appearance of the final product. Concrete pools are truly works of art, while fiberglass pools can often look standard.
Fiberglass pools have significant size limitations (maximum 16' in any direction, maximum depth of 4-6 feet) and have limited design choices. Concrete pools are fully-custom in terms of shape, size and depth, making them a perfect match for many homes around Jacksonville and many of the areas around the beaches.
2. Cost: Concrete Pool vs. Fiberglass Pool
The upfront cost for installation and manufacturing is typically between $40,000 and $100,000 for both pool types, depending on the size and design you have in mind.
Where the price can vary between the two is in the long-term expenses you can anticipate. The price you'll pay over time will come down to how well the pool is maintained over the years. While concrete pools typically cost more in lifetime expenses, the yearly costs can be reduced will regular maintenance.
The only serious maintenance costs for fiberglass are electricity and chemicals, which will cost about $3,500 over a period of a decade. Because concrete is often the material used for luxury swimming pools, they often need certain services to keep them in tip-top shape. Depending on how well you care for your pool, acid washes and replastering may be necessary after awhile, in addition to chemical costs and seasonal pool cleanings.
3. Durability: Concrete Pool vs. Fiberglass Pool
Another win for concrete pools! Not only does concrete typically look better than fiberglass, it also will last longer because of the high-quality materials and reinforced construction processes. Routine maintenance, cleaning and resurfacing will make your concrete pool last for decades to come.
While a fiberglass pool can last up to 25 years, the interior gel finish will likely need to be reapplied every decade. Fiberglass is less durable than concrete and also prone to cracking as the ground below shifts.
4. Maintenance Requirements: Concrete Pool vs. Fiberglass Pool
As long as there's no cracking and algae growth is kept to a minimum, fiberglass pools require less maintenance than concrete pools. To retain the beautiful appear and functionality of a concrete pool, weekly cleanings and regular chemical rebalancing is a must.
In either case, the better you maintain your pool day-to-day, the longer your investment will stay in pristine shape.
5. Chemical and Energy Requirements: Concrete Pool vs. Fiberglass Pool
Because the concrete surface of your pool is more porous, it's often more prone to algae growth. Weekly cleanings for concrete pools are simple and straightforward, so warding off algae is an easy task.
Fiberglass pools are made of virtually non-porous material, so algae growth is often minimal. Although, fiberglass surfaces can feel very slippery.
The pool you choose 100% comes down to the value you place on the investment. While fiberglass pools typically have lower ongoing maintenance costs and requirements, they aren't ideal for buyers that desire customization and a high-end look. A concrete pool is a great option if you're looking to work with luxury swimming pool builders in your area. Florida Luxury Pools is trusted by your neighbors all around Jacksonville and the beaches, with plenty of case studies to show our work.
Reach out to our team today to see which option is best for you. Florida Luxury Pools always works closely with you and your family to build a pool that stays in budget and also exceeds all expectations.